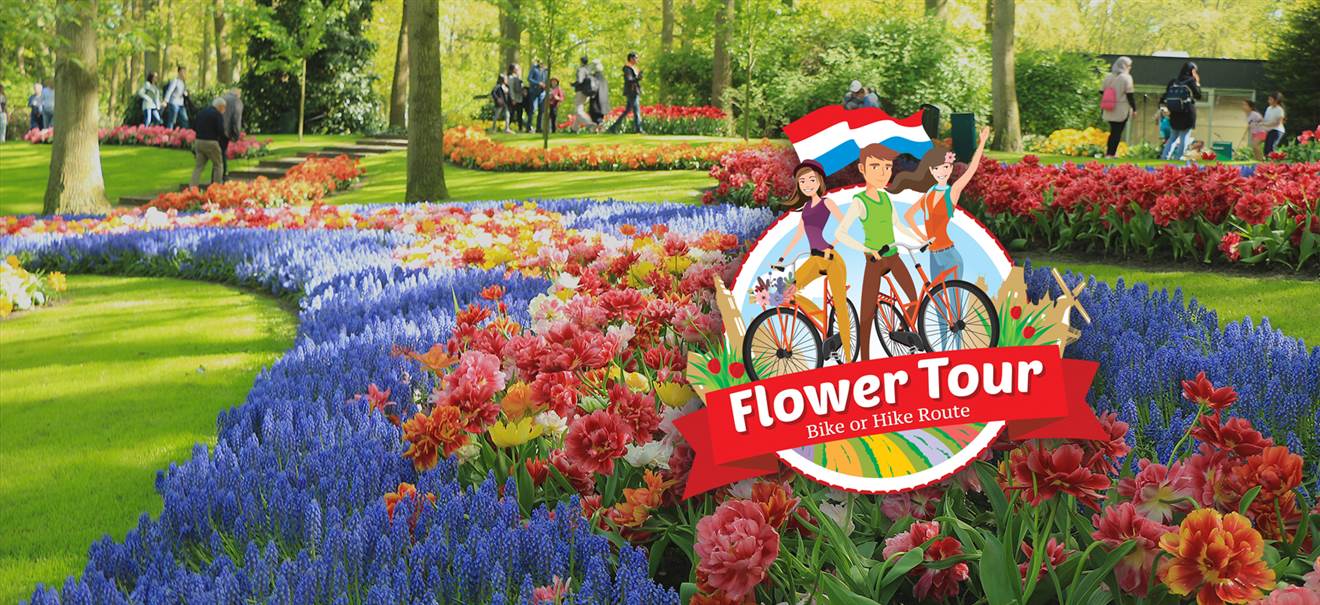 The Flower Tour: biking or hiking along the tulip fields
To product
The Flower Tour is a bike route and walking route that allows you to discover the beautiful and colourful flower fields around Keukenhof. There are flowers as far as the eye can see ! An absolute must!
The Flower Tour is a walking or cycling route in the Keukenhof area. The whole region is called " Bollenstreek " in Dutch. During this tour you will discover the most beautiful flowering flowers, visit a tulip farm and enjoy the hospitality of the flower villages.
The Tulip Tour is aimed at offering cyclists and walkers a true experience. In addition to the flower fields you will also pass beautiful monuments and you can learn more about the story of the tulip.
The route consists of two Keukenhof routes that are combined to see the most beautiful flower fields. You can therefore shorten the route yourself.
Price Tulip Tour:
The Tulip Tour is free to bike or hike. If you really want to experience the route, you can buy the experience tour for € 5.00. With this you get a (digital) route booklet with the highlights of the route. You also get access to the audioguide app with which you learn more about the tulip and the environment. With the experience route you also get a 25% discount at Museum De Zwarte Tulp.
The Keukenhof is open from the 20th of March till the 9th of May. This is the time to visit the flowerfields in and outside the Keukenhof. You can still take the Flower Tour outside the opening of the Keukenhof but expect to see less or no flowers in that period. 
What is included:
Digital route booklets with the highlights of the route

Audioguide app
What is NOT included:
Keukenhof entrance tickets
A bike
How does it work ?
After buying the Flower Tour you will receive an e-mail with a link to the digital magazine and with the link to the audioguide app