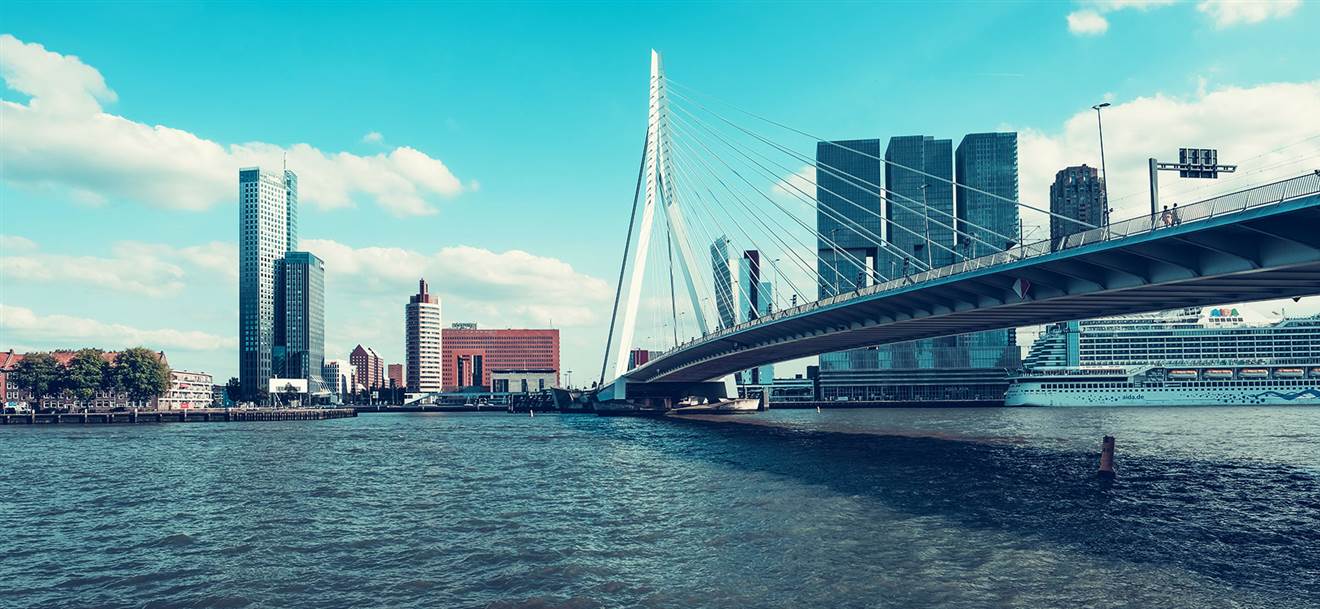 Rotterdam Tour (including transport from A´dam)
To product
Visit the highlights of Rotterdam
- Great bike tour with guide
- Discover Rotterdam in 3 hours
- Includes the Markthal, Kop van Zuid, Erasmusbridge etc.

The most Dutch way to see Rotterdam is by bike. More and more people discover Rotterdam as the great city it is! Rotterdam has a lot to offer, it is a city with a lot of faces. There is beautiful architecture, great restaurants, very nice shops and bars. Besides that, Rotterdam is a city with a very interesting history.

The biggest port city in Europe is in constant development. Architectonically Rotterdam is leading, it is a reference point.

You can easily spend a few days here! Take a tour in Rotterdam, pass by the Euromast, see the maritime museum, and many more!

Highlights:



•    Coolsingel

•    the Willemsbridge

•    the Erasmusbridge

•    Hotel New York

•    the SS Rotterdam

•    the markethall

•    the old harbour, along the Meuse

What is included?
Train ticket from Amsterdam Central Station to Rotterdam Central Station
Bike tour
Train ticket back from Rotterdam Central Station to Amsterdam Central Station
Departure time:

9.15h Train from Central Station Amsterdam to Rotterdam Station (takes approximately 40 minutes)
10.30h Bike Tour Rotterdam, after this tour you can take the train from Rotterdam to Amsterdam (the guide will drop you off at Central Station in Rotterdam or you can spend your time in Rotterdam and take the train later. The train tickets are valid for the entire day)
Language:
English, German or Dutch
How does it work?
After your order you will get a train ticket in 24 hours and a confirmation from the guide that he/she will pick you up from Central Station in Rotterdam. With this train ticket you can go from Amsterdam to Rotterdam and back from Rotterdam to Amsterdam on the same day. When you arrive the guide will pick you up for the Rotterdam Tour.
Make your reservation online and get a great discount!