Rijksmuseum Guided Tour (Private Tour)
Average rating

5

Number of reviews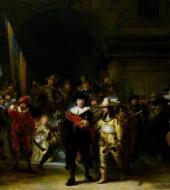 Masterpieces, art history and culture can all be found here at the Rijksmuseum!


Let our experienced guide take you around The Rijksmuseum. During the tour, our guide will accompany you along the exterior and interior of this impressive monument to culture while giving you interesting insight and facts!
The highlights of the Dutch Golden Age are shown in the museum and you will have a unique opportunity to see many of the collections housed in this incredible building. You will see exhibitions of beautiful doll houses, a wealth of silverware, the best Delftware and many icons known in Dutch history. The Rijksmuseum also has famous paintings on display by Jan Steen, Frans Hals, Vermeer and Rembrandt. The Dutch Golden Age was an impressive century, and the exhibits are filled with over 8.000 masterpieces.


Address:

Museumstraat 1, Amsterdam.

Meeting point: at the Museumshop at the Museumplein (Museum Square) next to the Rijksmuseum.

Included: Experienced guide (who studied Dutch history), skip the line tickets


Duration: 1 hour

Departure time: 15h00

Buy your ticket online and skip the line!