Sublime Amsterdam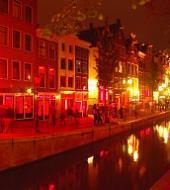 Rest assured you will not be able to experience and encounter so many of the forbidden aspects of life surrounded by secrecy, as you will in Amsterdam in the company of «The Sublime Insider».

We are happy to share our experiences and guide you through your first steps on the path to experience this new and exiting world, Amsterdam by night.We will not be doing much walking, as everything is situated in one district.

In other parts of the world «this» is illegal and might cause you a jail or even a death sentence! Here In the Netherlands we believe in open conversation rather than banning the subject altogether. Its much wiser to inform and control rather than dealing with the consequences. How and why this is undertaken will be further explained during our tour.

Route
Our first stop is the Smartshop- a kingdom of fairy tails. Its inventory range is wide and magical creating a sense of a world of its own. An introduction to the rich cultural origins of mind-altering elements going back as far as the Aztecs!

Ever wanted to indulge in some of the local delicacies? The Coffeeshop is our next pit stop. Here you will learn why soft drugs are NOT legalized in the Netherlands, how to sort through the many types of medicinal substances, gain a sense of the local culture and keep your mind open to new experiences. Tasting is part of the experience, but by no means necessary.

Newly inspired, we head to the most dissolute district in Europe- the infamous Red Light District. Officially prostitution has been legal for over 10 years, no crimes here. This cannot be described but has to be experienced and we will fill you in on all the details.

Our last stop is a Belgian Beer bar which offers more than 58 types of beer.

Attention! The excursions takes place for people of and above the age of 18, please carry your ID with you.

There are no age limits, our eldest visitor-74 years of age;)

The consumption of strong alcoholic beverages prior to the excursion is strongly advised against.

Included: alcohol-free beverage, beer, "medicine" and positive emotions in unlimited amounts.

Daily at 9 pm.

The groups are not large, a maximum of 9 people. Larger groups are separated into smaller once.